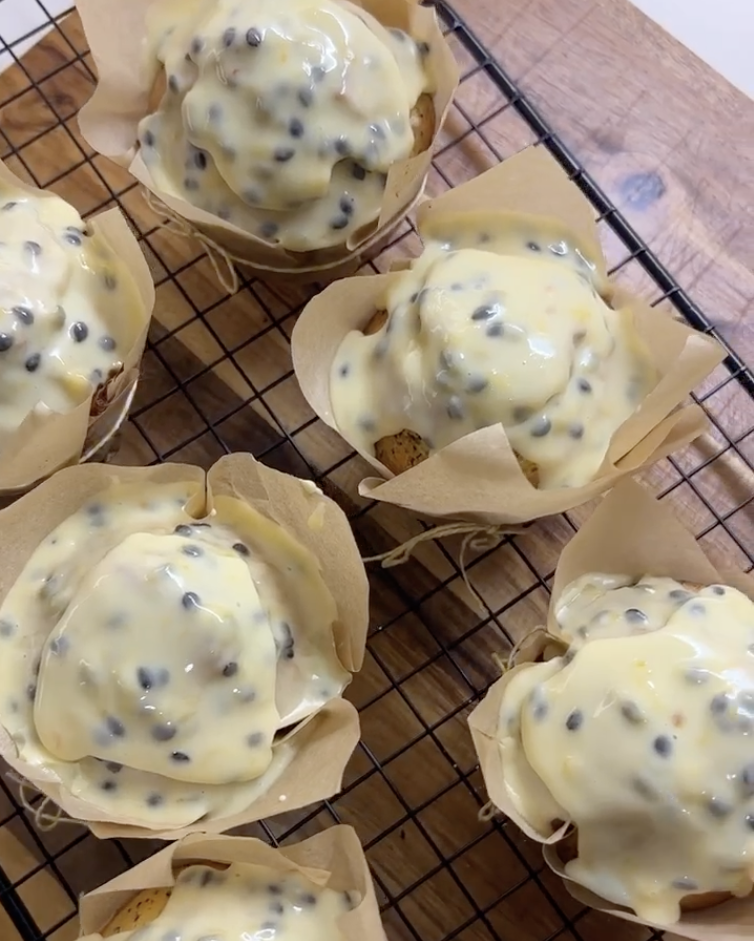 PASSIONFRUIT, LEMON & POPPYSEED MUFFINS 🧁🍋 by Jessica Nguyen
PASSIONFRUIT, LEMON & POPPYSEED MUFFINS 🧁🍋
Hey, Hey! These muffins are light, fluffy, and bursting with flavour. They're the perfect way to use up some of the fresh produce you picked up at the market this weekend.
I forgot how underrated a citrus and poppyseed muffin is! I used passionfruit but you can sub the passionfruit for citrus fruit like lemons or oranges.
Recipe by Jessica Nguyen @jessica_nguyen_
Ingredients
3 tbsp (25g) poppy seeds
½ cup (125 ml) whole milk, room temperature
1 ¾ cup (220g) plain flour
2 tsp baking powder
½ tsp baking soda
¼ tsp salt
Zest of 1 lemon, microplaned
2 large eggs, room temperature
¾ cup (150g) caster sugar
90g unsalted butter, room temperature
5 passionfruits, straining the juice so you end up with
¼ cup passionfruit juice without the seeds, plus 1 tablespoon extra for the icing. Reserve the seeds for the icing.
1 cup of icing sugar

Method
1. Preheat oven to 200 degrees celsius.
2. Mix the poppyseeds into the milk and allow to soak for at least 15 minutes whilst you prep the other ingredients.
3. Mix the dry ingredients (flour, baking powder and baking soda) and lemon zest in a bowl.
4. Beat the butter until creamy and then slowly add in the caster sugar until dissolved and creamy.
5. Add the eggs and beat until combined.
6. Add the milk and poppyseed mixture and beat until combined.

7. Fold in the dry mixture with a spatula until just combined.

8. Add ¼ cup of passionfruit juice (seeds removed) into the batter and mix until just combined.

9. Line a muffin tray with patty pans or if you want them to look like mine, cut square pieces of baking paper large enough to hang over the edges and place them into the tins.

10. Fill the muffin pans close to the top of the pan.

11. Bake in the oven for 17 minutes or until an inserted skewer comes out clean.

12. Remove from the oven and place onto a wire rack to cool completely.

13. To make the passionfruit icing, mix 1 tablespoon of passionfruit juice, plus the strained seeds with the icing sugar until you get a smooth mixture. If you want a thick icing, add more icing sugar to create a thicker consistency. For a thin icing, add a bit more passionfruit juice or water.

14. Ice the muffins once they are cool and allow the icing to set.

15. Enjoy!
Tips
For extra flavour, add a few drops of lemon extract to the batter.
If you don't have poppy seeds, you can substitute them with another type of seed, such as chia seeds or sunflower seeds.
To make the muffins ahead of time, bake them and then let them cool completely. Wrap them tightly in plastic wrap and store them in the fridge for up to 3 days. When you're ready to eat them, let them come to room temperature before icing them.
These passionfruit and lemon muffins are so delicious, that you'll want to make them all the time. They're the perfect way to start your day or enjoy as a snack. So next time you're grocery shopping at the Farmers market, be sure to pick up some fresh passionfruit and lemons to make these muffins. You won't be disappointed!